Remember the days when a belt was used to keep your pants from falling down around your ankles? Well, we've evolved! Belts have become an accessory staple in fashion. What can a belt do for you? How can you change up an outfit with just the addition of a belt?
First, let's discuss the many types of belts available to us now days....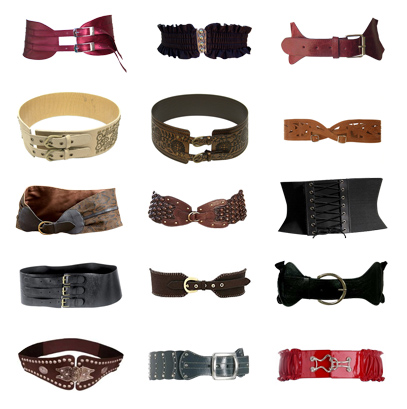 Cloth belts/Ribbon belts
Metal/Jewelry/Chain belts
Leather belts in Wide, Medium or Skinny
Rope belts
Stretchy belts
Here we go:
A
wide belt
can give a long torso a shorter appearance. Wear the belt below the bust at the most narrow part of your torso. Pair with a long blouse or a dress.
A skinny belt can help to elongate a short torso. Again, you would wear this just below the bust at the most narrow part of your torso. I like to get the adjustable ones so that there are multiple ways to wear the belt. This type of belt is great to pare with a pencil skirt.
A Metal/Jewelry/Chain belt worn loosely on the hips can also give the illusion of a longer torso for those of us who are short-wasted.
A rope belt (wrap around) will also help to elongate a short torso and give the illusion of curves where there are none.
My favorite look is to pair a pretty, flowy blouse with a classic cardigan and belt it with a thin leather belt. I must own about 20 of these belts in all sorts of colors. It pulls the outfit together nicely and accentuates the positive!
Have fun with it!